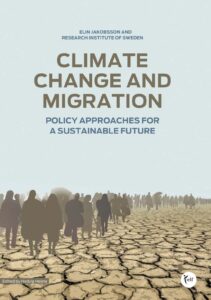 The adverse effects of climate change can drastically change living conditions in many parts of the world. In a new report from Fores and European Liberal Forum (ELF), researcher Elin Jakobsson provides the reader with the key features of climate-driven migration as a phenomenon, and the policy processes which surround it, and proposes a set of recommendations specifically aimed at policy makers in the EU to address migration and displacement caused by climate change.
In sum, the report sends the following message to EU policy makers:
More efforts needs to be put into streamlining definitions in order to create a unified terminology and a common language on climate-driven migration. There have been conceptual advancements in the past few years but confusion and discrepancies related to the scope and definitions regarding climate-driven migration still persist.
The Global Compact for Safe, Orderly and Regular Migration (GCM) gives more attention to climate-driven migration than has been given to previous agreements in the UN system. However, the suggested measures are not overly specified and it will be very much up to states to take these forward. With this in mind, the EU should make use of and safeguard the GCM as a forum for negotiations and discussions. In doing so, EU institutions and representatives should:

Strive to advance and promote issues related to climate-driven migration in the GCM context.
Encourage all member states to sign the compact.

A large group of climate-driven migrants are not sufficiently covered by existing protection mechanisms. EU protection for climate-driven migrants should therefore be strengthened. Such strengthening measures could include:

To recognize natural disasters as a cause of forced displacement – and  thus a provision to attain protection status within the frames of the new EU Qualification Regulation.
To consider the possibilities of international protection even where there might be a theoretical option of internal flight in order to relieve pressure on local resources and ecosystems (especially as such pressure has proven to be a breeding ground for conflict).
To assist people and states in need with finding safe spots after sudden-onset disasters. This can be done through humanitarian assistance, temporary permits or humanitarian visas.
To assist international humanitarian organizations and exposed states with resettlement-like solutions for displaced people, where appropriate. This should also be considered for cases of slow-onset disasters (eg. droughts and sea-level rise), where relocation is needed as a way of supporting vulnerable communities who have fewer chances of maintaining their livelihoods as a result of environmental degradation.
Read more and download the report here.